First off, I'll start by saying that the baby is great! Heartbeat was 164 bpm! And is folded in half…literally, the baby's feet were above it's head!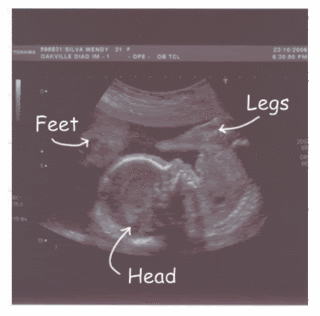 But the rest of the story isn't as exciting.

We get to the U/S place, 5-10 minutes early. I asked how the wait was becuase my bladder was ready to explode, and they told me that there was one person ahead of me so it shouldn't be long.
They call me in at 5:40…10 minutes late, not too bad. I say to the tech that my DH wants to come in and she says "yes, if there is time at the end". Well, they always say this, and he has always come in….at the other clinic that I had been going to. So she starts the U/S. The bed is in a position that is really below the screen and where my head is I can just see it from the side….barely seeing anything!
She's having trouble finding the things that's she looking for so she sends me to empty my bladder. I go and come back and she continues. Baby is a bit more cooperative and she's able to finish everything up. So she turns the screen to start showing me the baby and I say "can we call my husband in" and she says "I'm sorry but there isn't time. We were already running late and now I"ve missed an appointment". I'm almost in tears at this time. She hands me 5/6 pictures…I didn't even count them and I head out to the waiting room. I fight thru the tears to tell Dh that there wasn't time for him to come in. He's furious. He says to me "but another couple went in and the guy got to go in too". I didn't know what to say, all I could do was cry.
This is the one thing that he looks forward to cuz he's actually able to share this with me and he gets cheated. I'm so upset, disappointed and angry over this whole thing. Last night I cried myself to sleep becuase I just couldn't believe what happened. I feel horrible…my stomach is in knots. This is something that we might not be able to get back. I'm hoping that when we see the doctor on Monday, I can get him to give me another U/S.
It wasn't supposed to happen this way!!!