Munchkin's big girl room is finally finished!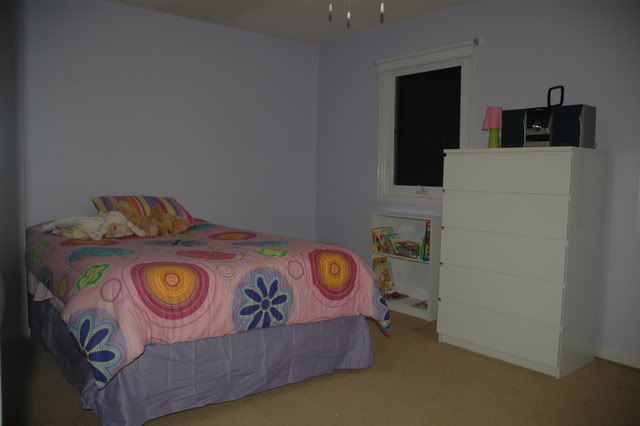 And she took her nap there this afternoon: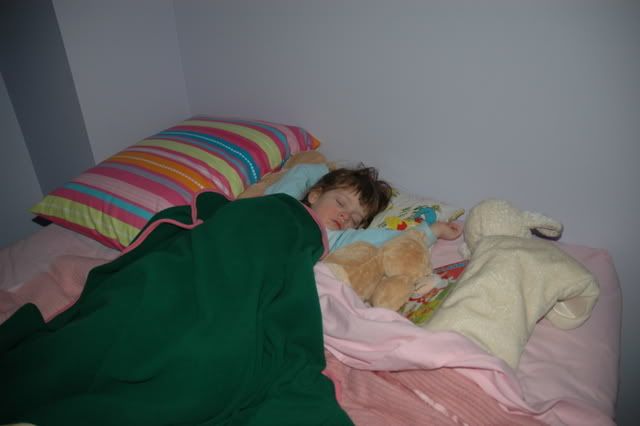 Getting her to sleep this afternoon was fun! I had her bring in Puppy and her blanket which are the things she likes to sleep with. But I had changed the pillow case on her pillow to match the sheets so I had to change it back because she kept asking for "my pillow". Finally she laid down. She got up a few times and I just took her back in. At last, at 2:30, she gave up and fell asleep. And to my amazement, she got up at 4:15!! Woo hoo!
She sleeping there tonight, but how many pictures of a sleeping kid can you take?? She is cute and all, but it might be over kill!!
Hubby put her to bed tonight. Went through the whole routine…read a couple books, kisses, night night, love you and see you tomorrow. Then the "where's mommy?" started. "She's sleeping and she'll see you in the morning". She got up a few times and he was heartbroken with the crying, but he was patient and diligent and kept taking her back to bed. The last time he left the door open a crack and she stayed in bed even though she didn't fall asleep right away. We're going to look into getting her a night light as the lamp in her room is a bit too bright.
I'm happy that Hubby was able to get her to bed okay since it will be tough for me to try to keep Munchkin on schedule while nursing the baby. Plus I think that them spending a little quiet time together as Father and Daughter will be nice for the both.
So Day 1 down. Let's hope tomorrow is as successful!