Why do I suck?
Because I missed someone giving me an award and I should have said Thank you.
Why don't I completely suck?
Becuase someone gave me an award!!
---
My awesome friend Dawn gave me this award….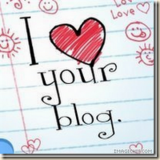 Now I'm supposed to list 7 blogs who I love….
Good Enough Mama (and ya, so she's gotten this before… I love her too!)

better than a playdate (great group of moms from the GTA)

who doesn't like free?  (I hope I don't have to explain this one)

…there are more but it's late and I'll edit this tomorrow!!