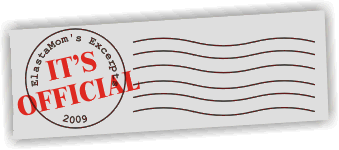 It's Official…today is my mom's birthday!
It's Official…i'm ready for it to be Friday.  This weekend the weather is supposed to be amazing!  We have so much outside stuff to get done and we won't mind doing it.
It's Official…Peanut is getting way too smart.  And her vocaubulary is amazing.  She blows me away with the conversations that she and Munchkin have.
If Official…that people with improperly installed car seats worry me.  As a car seat install tech, I have this habit of looking all the car seats in the cars passing me on the road.  So many are wrong.  I don't know how to approach people to let them know.  I don't want to the crazy lady that stops strangers on the road to harass them about their car seat.  It would be nice to know that those parents reaction would be "wow, thanks for letting me know. I feel so much better now" but it won't be.
It's Official…i'm very cynical when it comes to people accepting help when they don't want it.
If Official…I'll be helping out at a car seat clinic in the near future.  More details when I'm allowed to release them.
It's Official….that my first "It's Official" post is done.
---
To see the orginator of It's Official, go visit Elastamom!