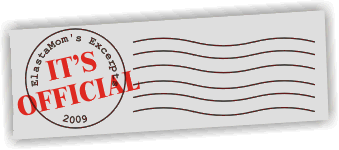 Okay..everyone play along…just make sure you link back to orginator Elastamom!
It's Official… this post is late.  I'm back dating it but it's still late cuz I'm posting it on Friday.
It's Official… Munchkin passed her swimming lessons!  She's been doing so well and trying really hard.  After many weeks of practice, she finally is able to jump in all by herself and she can go underwater and exhale!  We're so proud!
It's Official…. that I really need this weekend to be quiet and relaxing.