Where should I start?!?!
I haven't blogged lately. Life has been so busy. For the last few weeks we've been gearing up for our garage sale: moving stuff to the garage, organizing stuff, pricing stuff and then repeat.

Last Tuesday we had slight HUGE change of plans when Peanut had an accident with a porcelain statue. She had be running, tripped, fell and landed face first into the statue. It broke upon impact and cut up her face.

After a 2 1/2 hour visit to our local ER, she left with 2 stitches in her lip.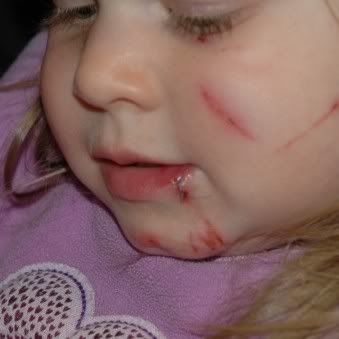 I highly do not recommend being the parent who has to be with the child getting stitches. BigDaddy took Muchkin out to the waiting room, so I stayed with Peanut. We had to wait for the doctor to round up extra hands to help her. They wrapped her in a sheet, like you would swaddle a baby with her arms pinned to her sides. They asked me to hold her down. One doctor held her head and the other did the work on her face. First they put two injections of freezing in. Then the longest minutes of my life while we waited for it to kick in. Oh, yes, she was still swaddled while we waited.

In between the sobs and screams, she said, "Mommy, I wanna go home now."

It took every peice of me to keep it together and not start crying. I had to be brave for her.
Finally the doctors come back to stitch her up. Two stitches is all that was required. But on such a little lip, those stitches looked huge.

Headed back out into the waiting room with all eyes upon us. Guess Peanut's screams could be heard by everyone. BigDaddy said that Munchkin was worried for Peanut and cried when she heard the screams.

On the drive home, Peanut asked: "Can I take my boo boo off now?" Ugh…break my heart.

After we got home, she had some dinner and was almost back to normal.
Then came the next hurdle. No soother. Because of the location of the stiches, Peanut wasn't allowed to have her soother. The doc said that it would keep too much moisture on the wound. So we got ready for bed knowing that it could be a very long night. Peanut did understand that the doctor said she's couldn't have it, but it was tough. Lots of crying. Lots of getting out of bed. In the end, I slept in her room with her.
It has gotten better since then and she doesn't even ask for it anymore. Tho we did tell her that we threw them out since the doctor said she couldn't have them any more. Silver lining to a horrible situation, I guess.
So Wednesday night we were able to get back on the garage sale bandwagon and continue getting thing organized. And that continued for Thursday and Friday too.
The sale was a success and we got rid of a lot of junk stuff and made some extra cash.
Tomorrow I'm taking Peanut to get the stitches out. I'm not looking forward to this.