Canadian Idol 2022, that is.
Sunday's Junior Choir performance at  Church was great!  She looked so cute standing up front in her white top and black pants (required attire).
And that's the key point… standing up front.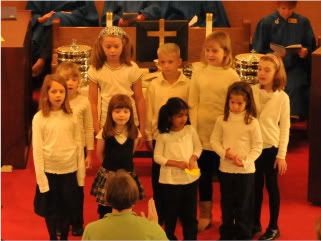 (Front row – far right)
We don't have a huge sanctuary at our church which is why we have two services (9:30 and 11).  But when you're 4 years old, that room might as well be Carnegie Hall.
I had mixed feelings leading upto yesterday: excited but I wanted to be reserved at the same time.  It had taken about a year for Munchkin to even want to go up for the childrens' story.  In our church this is a small time during the service where the kids get a lead-in story to what they'll be learning in Sunday School downstairs.  The kids all sit up front with their backs to the congregation listening to whomever is speaking.  So yesterday, I wasn't sure what she would do when she had to stand there facing the congregation.
But she did it.  She got up there and stood with the other kids.
It was very hard to tell if she was singing.  I could see her lips moving a little bit so she must have been singing.  But at that point, I was just happy she was up there.
I only wish that she sang with the confidence she did at home.  She knew all the words and all the notes and would sing so loudly that I'm sure the neighbours could hear.  Over time and with more performances, I know her confidence will go up.
Maybe she's just saving it all up for the day that she actually does sing in Carnegie Hall.