RIP 
Chicken Pox
December 27th, sitting at the dining room table surrounded by family eating Christmas dinner.  I glance over at Munchkin and I notice a couple spots on her face by her ear.
When getting her dressed for bed, shortly after dinner, I notice on her tummy and back a few more spots.
My mind jumps back to the day before and I realize that the spots she had on her back were not a rash from wearing her new clothes without them being washed first.
It's Chicken Pox…I think.
Bring her downstairs and show BigDaddy.  He's not sure either.  Good thing Grandma is there.  She thinks they are too.  Great.
I'm not upset about Munchkin getting them because we had hoped that she'd get them naturally.  We chose not to vaccinate for Chicken Pox.
Munchkin wasn't acting sick.  No fever. No itching. Nothing.  Just spots.  She went to bed that night and I was still wondering if that's what they really were.
Photos taken while she was sleeping
I decided to call the 24 hour nurse help line that my doctor's office has. She was great! Because we weren't 100% sure where she was exposed to them, the nurse suggested we get in to see the doctor for a diagnosis.
Then I called my brother and sister-in-law because they had been at dinner with us on the 27th with my 9 month old niece.  Yikes! (Note: to this day she didn't get the chicken pox)
Monday December 28th, even though I was off from work, I got up before 8am to make sure that I called the doctor right at 8:15 when they opened.  I called and called.  BigDaddy was home and I complained to him how the doctor's office must be having trouble with their phone system.  Now it's almost 10am and I still haven't scheduled an appointment.  Then I logged into to twitter and my Canadian friends were talking about observing Boxing Day.  Crap. That means that the doctors office will be closed.  I checked the doctors office's webpage and yep, closed.
I get back on the phone and I call the nurses' line back and explain the situation.  She asked me more questions about Munchkin's spots.  Yes, there were more. Yes, they ranged in size from the point of a pencil to the eraser. Nope, still no fever.  But the nurse said that she was pretty confident it was chicken pox. Okay…now what?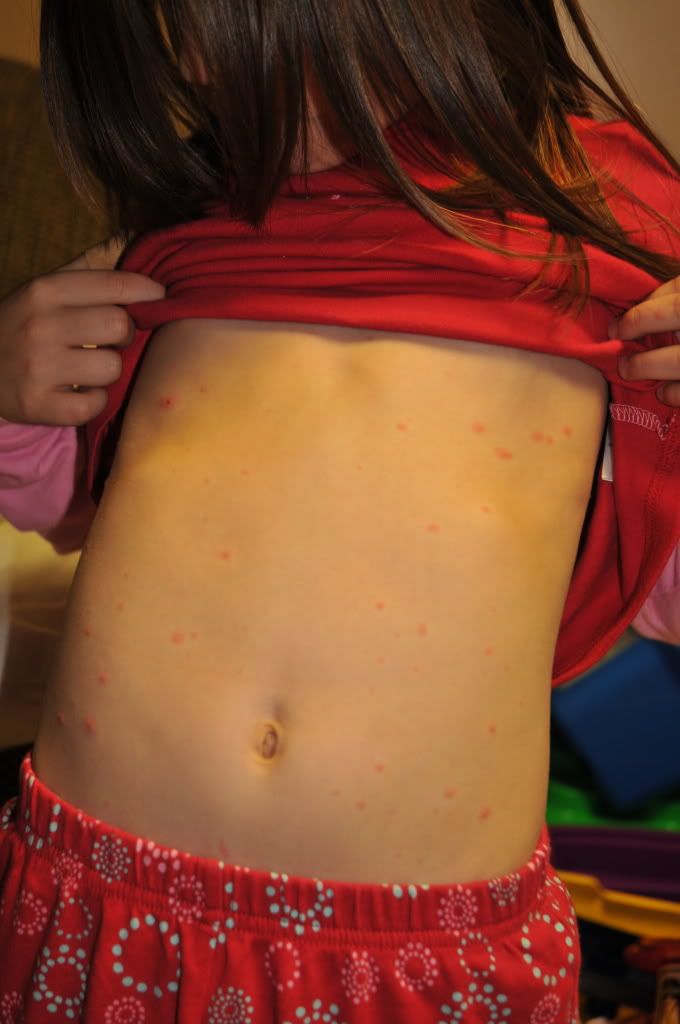 Chicken Pox – Day 3
Off to Shopper's Drug Mart I went.  I got everything the nurse suggested: Benadryl, Aveeno Oatmeal Bath and Tylenol (in case she did get a fever).
We had to cancel our lunch plans for December 29th and our dinner plans for December 30th.
Luckily our friend who was coming over for New Years Eve had had Chicken Pox as a kid so was still able to come.  That was a fun night.  We made a whole bunch of appetizers and snack-type foods.  After the girls were in bed, we played Rock Band until just before midnight.  Then we turned on Ryan Seacrest and Dick Clark and watched the ball drop.  We found out that More Much Music was playing videos from the 80s.  It was too funny!
We started of the new year right! We made a big breakfast of eggs, bacon, toast and fruit.  The girls had orange juice while the adults stepped it up a notch and had mimosas.  Yummy!
Then we played the Wii for hours!  The girls did pretty good.  Then the guys started playing the Bigfoot game.  They went from men to boys in about 6 seconds.
BigDaddy's parents came over around lunch time, which unfortunately was only about an hour after we'd finished breakfast.  They hung around and relaxed.  After watching a bit of hockey, our friend had to leave.  It was a great visit…so much fun and laughter.
Saturday, January 2nd was very weird.  All day BigDaddy and I kept asking "It's Saturday, right?"  We haven't had that much time off in a row for a very long time.  Munchkin was still getting her Aveeno Baths at night and Benadryl, as directed.  She did very very well.  Little to no scratching and things were definitely healing up…90% scabbed over.  No church on January 3rd; don't want to risk getting other kids sick.
Back to work on January 4th.  Munchkin and Peanut headed off to Grandma and Grandpas as usual.
January 5th was the first day that Peanut got a spot.  Just one. By January 7th, she had many more spots and I was confident she actually had the chicken pox.  Munchkin was supposed to be back at school that week, but we kept her home just to be safe.
January 10th was our associate Ministers' last service at our Church.  He was offered an amazing opportunity at another church that he just couldn't pass up: part time work (giving him more time to work on his doctorate) and a place to live (therefore selling his house and making some money from that).  Our neighbour came over to babysit. Munchkin could have gone to Church but it was easier just to keep her home to keep Peanut company.  That night, however, Peanut spiked a fever in the middle of the night.
Neither Munckin nor I got much sleep that night.  In the morning she was still very warm, so I had to stay home from work to take care of her.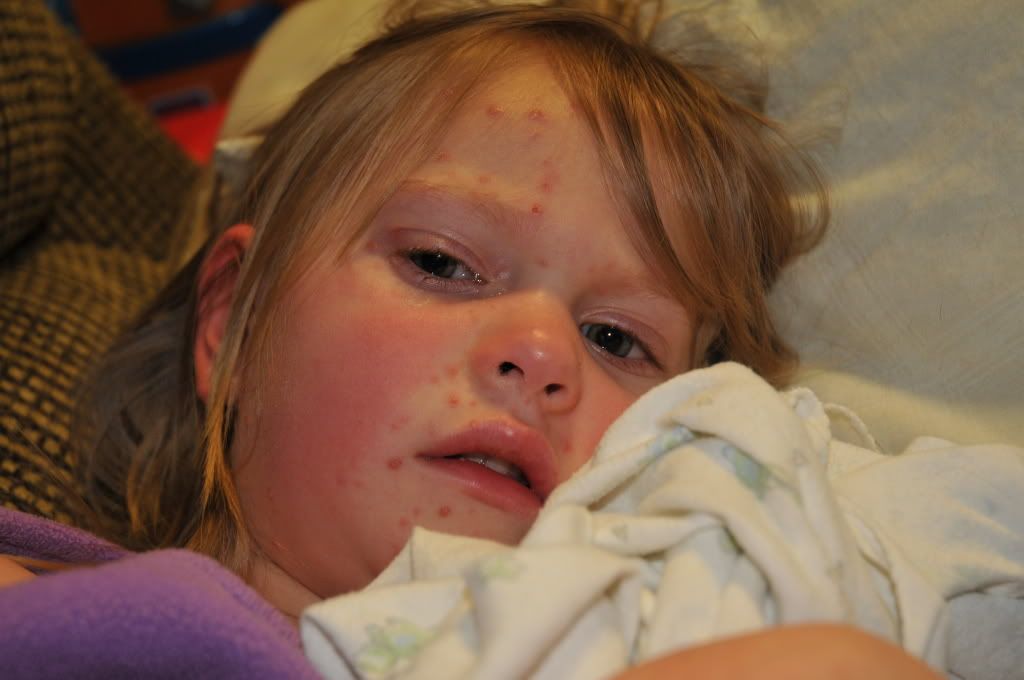 She obviously needed me
After a day of sleeping on the couch being pampered by Mommy and Munchkin, she actually ate a few bites of dinner.  When Munchkin asked for an apple, Peanut wanted some as well.  This was good because she hadn't asked for any food all day.  Two bites in to the apple and Peanut is crying and screaming "my mouth hurts".  I take a look and sure enough, she has chicken pox in her mouth.  Ick.  She got them soooooo much worse than Munchkin.
After the kids were in bed, I called my sister-in-law who is a dental hygienist.  Unfortunately there wasn't anything we could do.  We needed to keep her on bland foods and lots of fluids.  Knowing this I made jello for her to take to Grandma and Grandpas the next day.
January 11th BigDaddy and I were back at work, Munchkin had school (yay!) so that meant Peanut had G&G all to herself.  She laid on the couch all day and did a lot of nothing.  Only on Wednesday January 12th did she start to perk up a little.  Thursday January 13th, she and Munchkin were back to fighting with each other and by January 15th she was all scabbed over!
We did some shopping on the Saturday and our friend came over again to visit.  This time to help us tweet the surround sound for the TV downstairs.  Now it's awesome!  We stayed home from church just because the spots on her face were a bit too obvious and I didn't want to scare anyone.
When Peanut was at her sickest, I questioned whether we did the right thing by not getting them vaccinated for Chicken pox.  Should we have done this so she wouldn't be so sick?  In the end, I knew we had done the right thing.  Her little body would be much stronger after all of this and naturally immune.
As of today, the ones on her face are healing nicely.  There are a couple on her back taking a big longer to heal.  But she'll proudly show off her almost-healed tummy.