My report cards as a kid always included "easily detracted by others" in the box where the teachers can put their comments.  It's true.  I always cared more what my friends were doing or saying than what the teacher was talking about.  And now I'm side-tracked again.
I won't be writing about birthday parties or trips up a tower or how I'm trying to balance my life.  Today I'm asking you to help out some friends.  I probably should use that term loosely because, truthfully, I've never met them; I just read their blogs or shop at their online stores.  But I'm helping them because they are awesome people.  I'm going to do two posts today….one for each of them!!
Here we go…….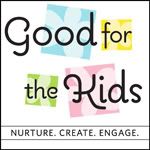 I found Good for the Kids when I started scouring the internet trying to find away to replace the tops of my Nuby sippy cups without having to buy a whole new bottle.  I hated the idea of throwing the whole thing out just because Munchkin had chewed on the rubber top.
And I was in heaven when my search landed me in the Good for the Kids online store.  They had Nuby sippy tops for every bottle imaginable…spouts and straws and valves… oh my!!
Recently I read Angie's post on her blog about how they're not doing very well.
My business was successful.

Until the Fall of 2008.

I was naïve to think I was immune because I was doing so well the 2 years previous. I was naïve to think that I could pay off the debt I had created that I was steadily paying down in my success.

I had been supporting small businesses, I was helping parents purchase products they needed at an affordable price, and I had a growing return-customer base.

But the damage had been done. Consumer confidence immediately dropped as news reports increased about cutting back on personal spending. I didn't even need to watch the news reports and see the statistics to know that people were holding on to their money much more closely than they had just the month before.

Yes, people were losing their jobs at an astonishing rate.
Yes, people were becoming more conscious of how they spent their money.
And yes, consumers stopped buying "extras" for themselves and their kids.

This happened seemingly overnight.

I can see the drop-off in my own business' financial statements.

Where I once had the confidence to be a successful and responsible small business owner, that confidence was now replaced with mounting debt, skyrocketing interest rates, and the inability to help support my family.

Near failure.
I know that this couldn't have been easy to write.  It's very hard to admit when you're struggling and asking for help is sometimes even harder.
Please check out Angie's site and see all the awesome things that she has to offer.  Her prices are great. And if you sign up for her newsletter, you'll get told of the sales and promotions that she runs frequently!  You can pay with PayPal and she ships to Canada!
I'm going to be tweeting about this post, so if you came here through twitter please tell everyone you know about her site.  She's on twitter @goodforthekids too.
You can become a fan on Facebook !!
And for my final plug, there is a "share this" button on the bottom of every post I write.  If you have never used that button before, NOW is the time.   Share this post however you can!
Please help out this awesome mom who's only trying to do the best for her family!