Last Thursday was Canada Day so BigDaddy and I took Friday off to make it a super long weekend.
Thursday
 Happy Birthday and Canada Day!
Thursday was BigDaddy's birthday and he was woken up by the girls with cards and presents in hand.  After opening his gifts, we had breakfast and got the girls ready to go.  My mom was picking them up later that morning so that BigDaddy and I could have a date-night for his birthday. 
Once Mom arrived and the girls' stuff was all packed in her van, we got hugs and kisses.  I had to run back in the house to grab something, and Peanut says to my mom, "I'm gonna miss those guys".  She's just too cute.
Once they were gone, BigDaddy and I looked at each other… "Now what?"  LOL.  It's weird to have your kids just drive away like that.  We had a list of things that we wanted to get done…mowed the lawn, cleaned up the kitchen, did some laundry.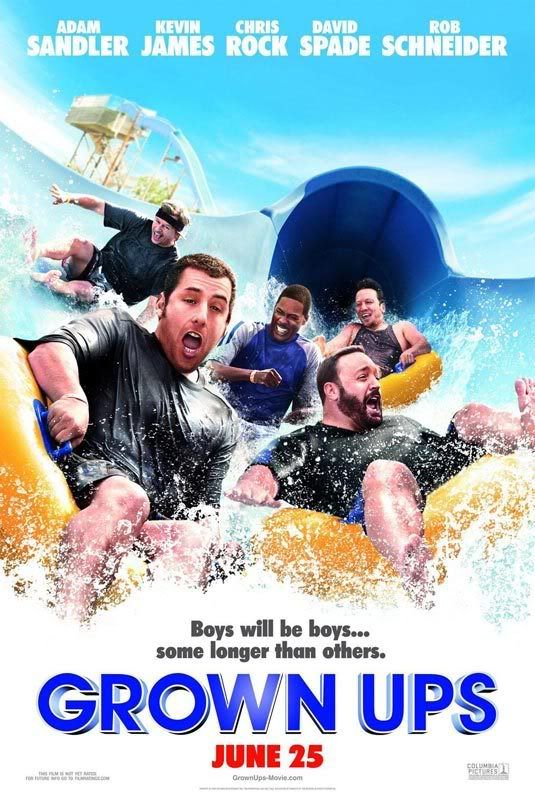 For dinner that night we went to Tucker's Marketplace and had a nice leisurely dinner. After we went and say the movie Grown Ups.  It was very funny but it had a nice story line as well.  I totally recommend it for parents but don't take your kids.  It's not for them even though it is about them.
BigDaddy didn't want to see the fireworks for his birthday (thank you Canada for doing that for him) so we relaxed in the hot tub for a bit and then finished our packing.
Friday
Friday morning we packed up the truck and out the door we went.  Due to a few oversights by me, we had to come back to the house 3 times to get something I forgot…not the best part of our day. But once we were finally on the road, it was smooth sailing.  Stopped for some shopping in Barrie and then we were at the campground by 3pm.  The girls were very happy to see us.
It took until dinner time on Friday for me cry.  See Friday was 5 years since my Dad passed away.  We were on our way to order pizza (there's a pizzeria at the campground), something my Mom and Dad would do every Friday when they were at that campground, and my mom found a bird's feather.  My Dad was there.  The minister who officiated my Dad's funeral talked about being a feather in the breeze.  We know my Dad is there when we find one.  And they do show up at just the right times.
Saturday
Saturday we spent in Barrie at Kempenfelt Bay.  The girls played at the park near the beach, we walked through the street festival, had ice cream and rode on the midway rides.  It was a lot of fun!
That night had a campfire.  Since my days as a Girl Guild/Pathfinder/Ranger, I've been the one who starts the fire.  BigDaddy says to me, "Be careful."  Peanut follows it up with her newest Peanut-ism —  
"Yes, Mommy, be careful so you don't get fired."  
Gosh she's funny.
Sunday
The campground had a pancake breakfast which was really yummy.  Afterward we went swimming and then had to get ready to go.  We didn't want to get stuck in too much traffic so we left just before lunch.
We tried to distract the girls by telling them about the fun things that Grandma had planned for their afternoon (mini golf, crafts and more swimming).  It worked for Munchkin, but not Peanut.  Her shoulders slumped and her lower lip quivered… "I'm going to miss you" followed by the biggest, tightest hug.  They headed back to the site and we drove away. 
We got home, had dinner and relaxed in the hot tub for a bit.  We watch TV and read the newspaper.  These are things that we usually do after the girls are in bed so they weren't new, but strange to do without having to worry if the girls are going to sleep through the night and/or stay in their own beds.
Monday
And here we are.  Both of us are back at work.  The girls will be at our house when we get home from work.  It will be great to hear their stories of what they did after we left.
What a great loooong weekend!  It's be a while since we had 5 days off in a row.  Now to figure out when we can do that again?
---

How did you all spend your long weekend?
For some of you it was Canada Day and other is was the 4th of July!
Share your fun weekend stories!
---