"Back to school" is everywhere… in the stores, on TV, on the calendar and at our optometrist.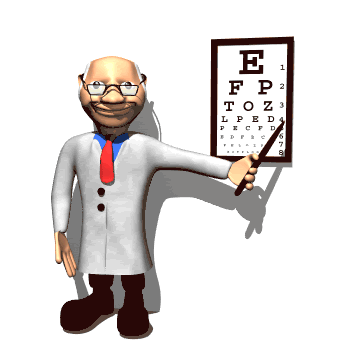 The eye doctor near our house always has a road-side ad up at this time of year reminding parents that their children need their eyes checked. This year I actually looked into it.
He posted this information on his website:
Recommended Guideline for Frequency of Children's Eye Exams

The Ontario Association of Optometrists (OAO) recommends that children have a comprehensive eye examination by an optometrist at the following frequency:

At 6 months of age
At 3 years of age
And then every 12 months or as recommended by the optometrist

The developing visual system is most susceptible to interference during the early years of life. Approximately one in six children has an eye or vision problem significant enough to impair a child's ability to reach his or her full potential.

When disorders such as amblyopia, strabismus or any number of ocular diseases go undetected, the long-term consequences can be serious.

Children with these conditions can experience permanent vision loss which may impact their quality of life, comfort, appearance and career opportunities.

Children are covered by OHIP* for eye exams until they reach the age of 20 yrs.
Here is the supporting information from the OAO.
(* OHIP is our provincially funded health coverage ~ Ontario Health Insurance Plan)
So I called up the optometrist's office and made an appointment for both girls.
Because it is so close to the house, we walked. That walk was filled with a million questions. Will it hurt? What's he going to do? How does he look in my eye? But my eyes don't hurt, why do I have to go? I tried my best to answer the questions.
Once we got to the office, they were distracted by toys while I dealt with the health cards and other info they needed. We got taken back into the exam area. The assistant did one quick test on each girl before we were taken back into the office with all the big equipment. Of course that brought on a million more questions. Oh and the girls managed to see the doctor's stash of suckers so they were motivated to do well.
Munchkin got to go first. The doc asked a bunch of questions about her health and vision and family eye health history. She had to read some letters while he looked at her eyes. She did great! Then it was Peanut's turn. Since she can't read, she got to use pictures. They were almost stencil like so a few of the pictures she didn't know what they were trying to show. I don't think it was because she couldn't read it; she just didn't know what it is. The doc was able to gather enough info and we were done.
Both girls have 20-20 vision. Which is good as both BigDaddy and I are near-sighted.
I wish I had know that we should have been getting their eyes checked sooner. I think it's great that OHIP is covering the cost for kids (too bad they can't cover adults any more). I just hope that by reading this, parents take initiative to get their kids' eyes checked.
It was a quiet walk home as the girls enjoyed their suckers.