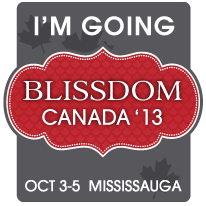 Today starts the beginning of a few amazing, crazy days!!  It is the start of Blissdom Canada…with an Anniversary party thrown in the middle.
I'll work all day today then head downtown to register for Blissdom! I can't wait to see all my blogging, social media friends!  A lot of them I saw a few weeks ago at She's Connected, but there will be others who I haven't seen since last year!
Tonight the kick off party is at CBC Live!  And I've heard that we'll even have a red carpet!  I'll be sure to take lots of pics to share with you next week.
Tomorrow the Blissdom amazingness will continue without me.  Friday is also BigDaddy's parents' 50th Anniversary party.  I'll try to sneak a peek at the #BlissdomCanada twitter feed when I can because I know that there will be a lot of laughs and tweets coming from the #MabelBliss party.
The girls are pretty excited about the Anniversary party tho.  They got new party dresses and new shiny shoes.  It will be nice to see family and friends come together to celebrate 50 years of marriage!
Then Saturday morning, I'll head back in to Toronto for Blissdom Day 2.  I'll be inspired by speakers, engaged by panelists and meeting and mingling with some amazing women.  The day ends with a Halloween Party!
It will be busy a busy few days…but so much fun!
Are you going to be there? If so, be sure to leave your name below so I can try to find you to say Hello!
---