To my beautiful Munchkin on your 7th Birthday:
Wow… it seems like yesterday I was writing about your
6th birthday
!  And now you're 7!
BigDaddy
, Peanut and I love you very much!
Last year at this time, you had only lost one tooth!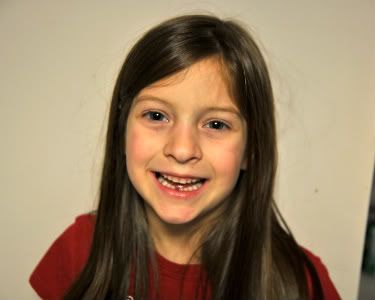 Now you've lost 8 but 4 have come back!
What you're up to these days?
you're  reading at a grade 3/4 level (Levels M to O) and we're working on your comprehension skills 
you're still doing math for fun and really enjoy your math workbook
you're loving science
you're a great helper in the classroom
you wear size 7/8 clothes and a size 3 shoe
you chose "boy boots" this year because you didn't want girl ones
you're 4′ 3.5″ tall and weigh 62 lbs
you're a Brownie now
you can be a really great sister…most of the time
you're funny and you love telling jokes
you got a big bike with hand brakes this summer and we enjoyed lots of long bike rides
We can't wait to see what you can do by next year!
---