Every year at a local mall, the Oakville Literacy Council has a book sale.  It happens the week after the May long weekend.
We were at the mall last night and the girls picked up 4 books each, and 1 for me.  9 books for $9.  You can't beat that!  And since all the books are donated, all of the money is profit for the Literacy Council.  Win – win – win!
---
When Rachel picked up one of the books and flipped the pages, a little slip of paper fell out of it.  She laughed because someone had left a bookmark between the pages.
I noticed it was a receipt…dated April 28 1994.  Wow!  I was in grade 13!  So long ago.  What was even more shocking was the fact that 2% milk was only $2.99.  We pay $4.50 now…if not more!
---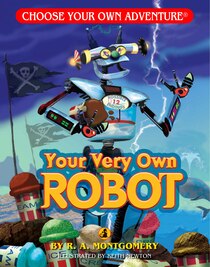 Like this one!
Tonight, Rachel is reading a Choose Your Own Adventure book that I convinced her to pick up.  She wasn't sure at first.  I explained how it worked that sometimes it would tell her which page to turn to, or sometimes she would get to pick how she wanted the story to go.
At one point, where you could see she was in the middle of the book, she shows it to me and it say "The End."
"But it's not the end?!?"
I explain that next time she reads it, if she chooses differently, then she could end in a completely different spot.
And she ran off to read it again.
---
I remember reading so many Choose Your Own Adventure books as a kid!  I love that she loves reading! Her imagination can take her anywhere!!
---