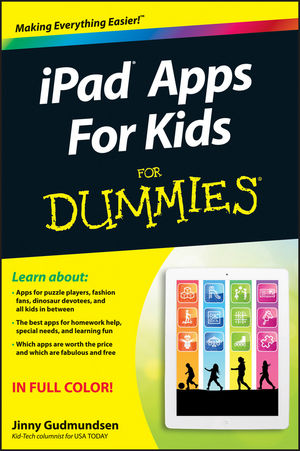 iPad Apps For Kids for Dummies
Get the scoop on the best kid-friendly apps iPad has to offer!
How do you find good apps for your children? Read iPad Apps For Kids For Dummies, that's how! With over a half-million apps in the App Store and that number growing, this great new guide cuts through the clutter and points parents in the direction of the best apps for kids of all ages. From apps for dinosaur lovers to fashion fans, puzzle masters to avid adventurers, and everything in between, you'll find apps to both educate and entertain. Which apps have strong girl role models? Which apps help kids with special needs? Which ones will keep the whole family entertained on the road? This handy, full-color book by tech-savvy, USA TODAY Kid-Tech columnist Jinny Gudmundsen covers it all.
Helps parents find the best of the best iPad apps for children of all ages in the crowded App Store
Shows parents which apps are worth the price and those that are free and fabulous
Demonstrates how to use an iPad to make learning fun, apps for kids with special needs, age-appropriate apps for each child's age, and how you can avoid in-app purchase mistakes
Draws on the experience and expertise of Kid-Tech columnist Jinny Gudmundsen, who has taken countless apps for a test run and shared her findings in USA TODAY and in Gannett newspapers nationwide; Jinny's work has also been published in the Los Angeles Times and Child magazine, and online at ABCNews.com, and she has appeared on national TV and radio
Don't waste anymore time plowing through the App Store for kid-friendly apps on your own! Get iPad Apps For Kids For Dummies today and get your kids excited about learning.
About the author (from http://ca.wiley.com/)
Jinny Gudmundsen is the Kid-Tech columnist for USA TODAY and the Gannett newspaper chain. An authority on technology for kids, she also works for Common Sense Media, the nation's leading nonprofit source of reviews on children's media.
What I liked:
As with all Dummies books, I like their little icons that alert you to special things. My favourite is the "Warning!" icon to let parents know when something might not be so child-friendly.
At the beginning of the book, Gudmundsen explains how she chose the apps to highlighted in the book. She looks at entertainment value, education value, ease of use, appropriateness (content, advertising and enticements to spend money with in the app), use of iPad technology and value. When I first read this, I hadn't even thought about advertising. They are common in all the apps that I use, but ad aren't good for kids.
Before even getting to the apps, she talks about using the iPad, protecting the iPad and privacy issues to protect your kids. The points about privacy are great, like turning off links to social networks).
The apps are divided up into many chapters based on age, games, educational and by different topics. And then at the back is an appendix showing a table of all the apps and which ages they're appropriate for.
My daughters look through the book and found many new apps that they want to try. I got to read about them, learn what is involved and be able to decide if it really is an app for them.
Another great thing about the book is you can check for updates to the book — http://www.dummies.com/go/ipadappsforkidsfdupdates
What I didn't like:
I wish there had been more free apps. There a lot of free apps in the App Store that could have been suggested. Though that might be a topic of a new book.
---
How do you pick apps for your children to play?
If you're looking for help on picking good quality apps,
this book
will definitely help!
---