Wow! One week down already!
 Some really good things have happened! And I've learned a lot about myself. (I could have said that some really bad things happened, but I'm trying to stay positive).
The good things:
I've started tracking what I eat and how much water I drink (click the button on the right and join me on my journey)
I've started exercising
I haven't lost any weight but I haven't gained any either
I've found a group of people who are focused on a healthier life too;  I need all the support I can get!

What I've learned:
Weekends are hard
I need to drink more water
Exercise is tough
Finding motivation is hard sometimes
I have way too many excuses for way too many things
Monday and Tuesday were awesome! I had motivation, watched what I ate, and exercised 2 days in a row.  Wednesday: eating was okay, exercise was non-existant.  Thursday was the same.  Friday was bad…pizza and no exercise, followed by no sleep (all-nighter with the Youth Group)
And that note up there about "weekends are bad"… ya.  Saturday I slept all day after getting no sleep the night before…no breakfast, no lunch…and then dinner was take out.  Sunday was busy too….no breakfast, peanut butter and jelly sandwich for lunch and left-over take out for dinner.
Today is a new day.  I will kick "Blue Monday" in the butt and get back on track!
Please tell me I'm not the only one struggling to get this health thing sorted out?!?!
---
Join Motivated Monday and link up your post!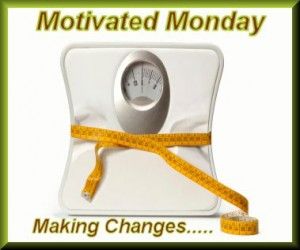 ---