Too often, I hear women complaining about what their husbands do or don't do. I know that everything is just amplified due to social media, but it can be very overwhelming (especially if it's the same people all the time).  I know that life isn't always perfect, but why bring the world into your problems?
I was over joyed when I came across a post that linked back to the "Happy Wives Club", a group of women who celebrate the love they have for their husbands. Perfect! This is exactly who I am…a Happy Wife.
On Thursday's they have a link-up where Happy Wives can share your happy posts about your your husband! 
---
Craig and I have been married since 2002 but we met in 1999. It's very cliche, but we met in a bar.  We were with our own group of friends, when one of his friends, who had had too much to drink, got to be a bit obnoxious.  Craig apologized for his friends actions, and we got talking.  We talked for a long time.  We started making plans to see each other the next day, when he said, "You obviously like beer, do you like steak?"  I surprised him by also liking football and chicken wings.
The next day we went to the ROM, followed by a steak dinner at The Keg.  After dinner, we watched the movie Message in a Bottle.
1 year, 2 months, 5 days later, he proposed to me using a message in a bottle.
In the 10 years that we've been married, our love has only grown.
 
---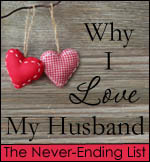 Why I Love My Husband (the never-ending list):
He loves me just as I am and doesn't want me to change.
He listens to me…even if my ideas are crazy.
We can pick on each other and know that the other is just joking.
 He makes me happy.
When he hugs me, everything else in the world doesn't matter any more.
…to be continued…
How do you feel about your significant other?
What would you shout from the mountain tops about them??
---