You're reading this, thinking "Wow! A Motivated Monday post. She hasn't done one of those in a while."   I know.  I'm struggling.  I keep falling back into the old habits.  And if I don't blog, they don't exist, right??
But…….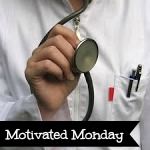 I went to the doctor today.
No, I'm not sick.    I went for a physical.
The last time I went was after my daughter was born….she will be 6 next month.  I know…I know…
I think that if I didn't go to the doctor, I didn't have to admit that I needed to change.  Avoidance coping.

I decided that since I'm on the road to a better mind, body and spirit, I needed to know where I stand.
All in all, it was pretty good!  My blood pressure is great, my ears, nose, throat are good, lungs are good and other various things that he checked are good.
Then he weighed me and asked me my height.  Ugh.  And when he punched those number into his computer it confirmed what I already knew.
 I'm overweight
.
(However, I do like his scale better than mine…I'm one pound lighter on his!)
We talked about my eating habits and my exercise habits.  I explained that I'm working on new habits because the old habits are bad.  He said eat good foods, eat smaller portions and walk 30-40 minutes everyday.  That's pretty reasonable.  Stuff I already knew.  Stuff I need to be doing.
But as we know, breaking those bad habits are hard.  Though I should really stop saying that because it just reinforces the wrong message.
Big deep breath ….
My new habits are going to make me healthy!
Next step is to get my blood work done, but he wants me to fast first. I'll get that done in the next few days.
Have you gone for an assessment with your doctor to see how you're doing?? Share your posts about improving your mind, body and spirit!!
---