Recently I received an email from a company asking me to review a product that was for tweens and teens.  Sadly, I replied back and thanked them for choosing me, but since my daughters are only 6 and 8, we don't have any tweens or teens to help evaluate the product.  That was that and I went on about my day.
Later, they emailed me and said that my 8 year old fits in the "tween" category and would I still be interested in trying the product.  I agreed to try it because I like the product, but I was still in shock.
Tween?  My daughter?  She only 8!!
I'm not sure what exactly I thought a tween was, but surely it's not 8.  I know that a teenager is anything ending in 'teen' — 13, 14, etc.  And there was a time when 'tweens' were called preteens…but I'd only lump 11-12 years old in that group.  Almost a teen….but not quite.

Dictionary.com defines tween:  "…tween, tweeny. a youngster between 10 and 12 years of age, considered too old to be a child and too young to be a teenager."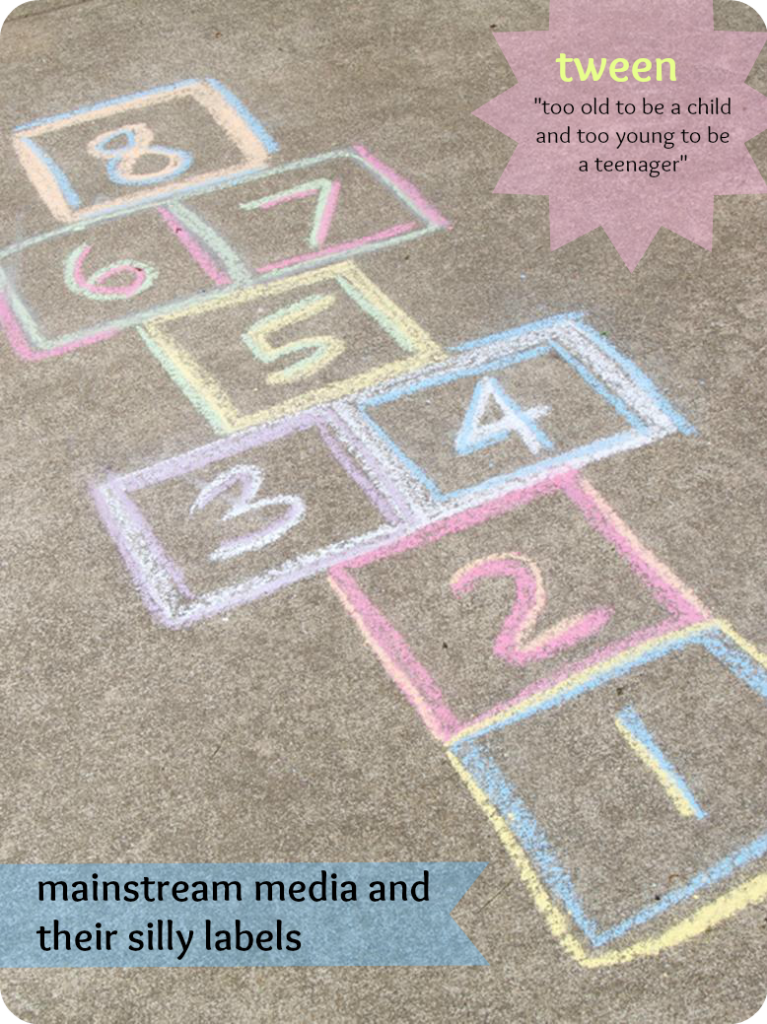 A few other sites said 8-12 or 9-12.  But the catch for me is the line that says
 "too old to be a child and too young to be a teenager."
Really?  Too old to be child?  According to whom?
Media and marketing people…that's whom.  If they can widen the age range in what they label as "tween" then now have a bigger demographic to market their products.
This article from the nj.com says exactly how I feel — Marketing to Tweens – making our kids grow up too fast
The author writes:
"Tweens have had their own identity and their own idea of independence forced upon them by a culture that tells them what to buy and how to grow up. This false autonomy bestowed upon the Tween generation is an unnatural alternative to the autonomy these children should be developing on their own."
And that is where we as parents come in…
How do we allow our girls to develop their own sense of self with out too much pressure to grow up too fast?
I think Craig and I doing great so far!
She loves to read, write and draw. She loves to ride her bike, play games in the back yard and draw with sidewalk chalk.  I hope she never feels that she is too old play.
Rachel isn't a "girly girl" so that might have something to do with it.  She doesn't like Barbies or Bratz dolls and she doesn't like frilly and pink.  This means that she doesn't like a lot of the "you need to grow up too fast" clothing that comes in her sizes.
She doesn't spend a lot of time on the internet, and when she is, she is limited to a few sites that we have approved.  She has asked about when she can get a Facebook account but we stress that there are rules and she need to wait until she's 13.  Hard rule to follow when other kids her age already have accounts.  (That's a whole other blog post right there!)
Lauren (who's only 6 right now) may lead a different path. Currently she's into pink and bling and all the cutesy clothes that are marketed at her age group. We'll continue to guide her, like we did with Rachel, to be respectful of herself and to choose outfits that are appropriate.  I'll re-read this post when Lauren is 8 or 9 because I could see her being a different type of "tween" than Rachel.
So have I been under a rock?  I can't be the only one who feels that 8 seems too young to be considered a tween!
I'd love to hear others' thoughts and feelings.