I'm very excited to be able to put this badge on my side bar (look to the right!)
Last year, Blog Her '12 was in New York City.  How cool is that?!?  But it was the same weekend as Craig's and my 10th wedding anniversary!  I love Craig more than blogging conferences so there wasn't even a decision as to where I would be…with the love of my life!
Now this year was a totally different story.  BlogHer '13 is July 25-27th.  That doesn't coincide with any major events…no birthdays, no anniversaries, nothing.  So I'm going!!!

First thing was getting a ticket.  By the time I decided to go, the early bird tickets were long gone.  Did I want to buy a ticket full pop? I hummed and haaa'd.  Then a series of things happened….people started talking about BlogHer in my blogger networking group, and the next thing I know, one of the members is offering me her ticket at the early bird price!  It was meant to be!
Now I need a place to stay... Again, a series of events happened… Craig was talking with a friend of ours about BlogHer and mentioned that I was going.  Came to be that they needed a roommate.  This working out perfectly!
---
Since this will be my very first BlogHer, I'm not 100% sure what to expect.  I know it's big (over 5000 bloggers!) and I know that I'll feel like a small fish, but I also know that I'm going to learn a lot!
When I first looked at the agenda a was taken aback.  So many choices!!  Fortunately, Mr. Lady has been doing amazing posts on the BlogHer Conference site where all of the leaning tracks are explained…
As I am reading through all of the amazing sessions, I am liking a few from each track. To ease my confusion about which sessions was happening at what time and where (there are 2 locations!)….I got smart.  
I made chart!  (I'm a poet and I don't know it!)
Check this out….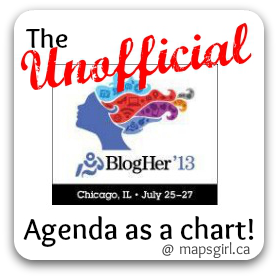 Now I can see which sessions happen at the same time and at which location!
Gotta go plan!!
Are you going to BlogHer '13??
Which sessions are you looking forward to?
---