"Canada has a relative abundance of water, possessing 7 per cent of the world's renewable fresh water, yet only 0.5 per cent of the global population. Despite Canada's abundance of water, this valuable resource is now under pressure from growing and often conflicting human requirements, which is likely to be exacerbated by the effects of climate change."
We need to teach and encourage our child to protect our fresh water! 
When the RBC Blue Water Project team asked some kids what they would do to protect fresh water, this is what they said…
When I asked my girls what they would do, they started listing all the thing we already do. So I encouraged them to think "out of the box" and asked them that if they had all the money in the world and could protect our fresh water, they said…
"I would put a force field over all the rivers so the big companies couldn't put dirty oil in the water"
– Rachel, age 8
"I would have a superhero protect the water.  The superhero would be called Mrs. Envirogirl!"
– Lauren, age 6
We need to lead by example!
We do many things around our house everyday to minimize our water consumption…
The girls know to turn off the water when they're putting soap on their hands, or when they're brushing their teeth.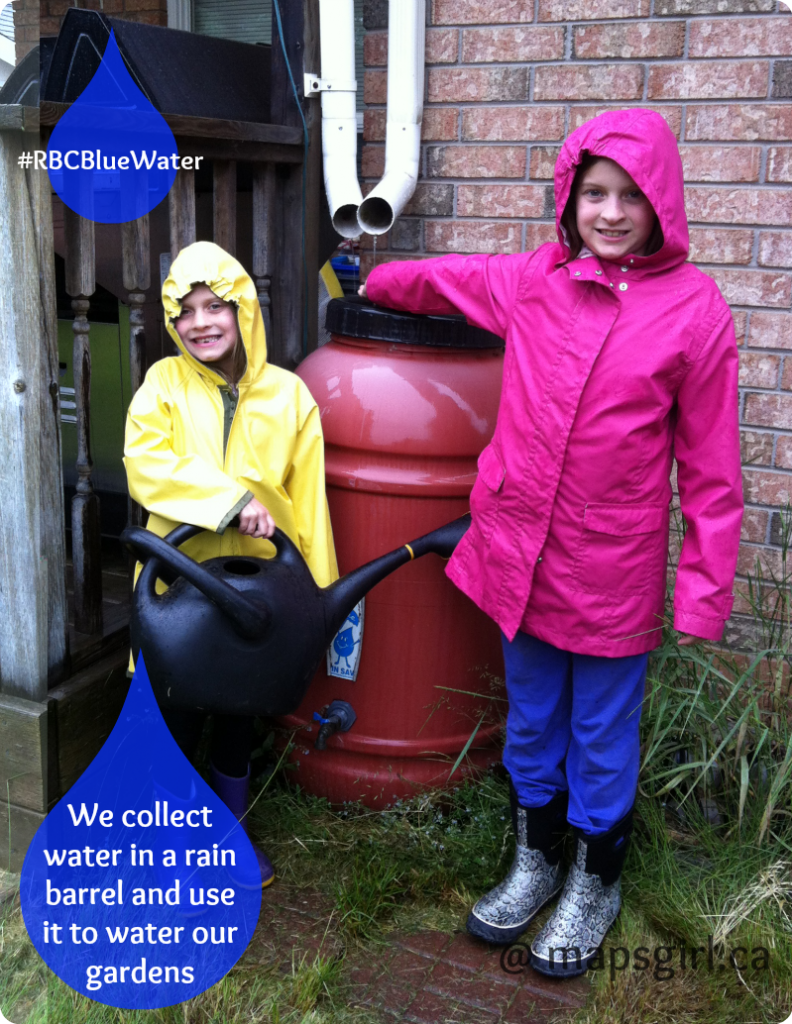 For a long time now, we've been collecting water in a rain barrel.  This is a great source of water for watering our gardens and plants.
Here are some other great tips!
Whether you get your water from a municipal or local government water department, private water company, or from your own well, you have a direct stake in water stewardship. Here are some ways you can help:
 Get informed. Learn about your local watershed. Support your local watershed organization or regional conservation authority.
Minimize the square footage of impervious surfaces such as concrete and asphalt on your property. Consider using paving blocks, grass driveway strips, wood decks, wood chips, and crushed rock when designing driveways, patios and garden pathways. This will allow rainwater to soak through the ground rather than going directly into the storm drains.
Don't dump products that contain toxic chemicals or pharmaceuticals on the ground, into sewers, or into the toilet.
Pick up after your pet (or teach your kids to do it)
Use natural, organic gardening and lawn care products.
Use non-phosphate soap to wash your car. Try to wash your car on gravel, grass or other permeable surfaces so that soaps, dirt and oil do not enter the storm drain system.
Use a rain barrel to collect rooftop runoff, and use that water for lawn and garden watering, car washing, and window cleaning.
Use tap water instead of buying bottled water, where municipal supplies are safe. Use a thermos or re-useable aluminum bottle to carry your water.
Plant trees and support pro-forest initiatives. Soil erosion due to forest depletion results in water pollution worldwide.
Convert your lawn. Native plants tend to be better adapted to local environmental conditions, and can require less fertilizer, fewer pesticides and less water than typical grass lawns.
What are you teaching your children about conserving and protecting our amazing fresh water sources??  Start small…start today!
---
This post content is sponsored by Royal Bank of Canada, however the views and opinions expressed herein represent my own and not those of Royal Bank of Canada or any other party and do not constitute financial, legal or other advice.
---