As the weather cools down in the fall, slow cookers come out off the shelf and soups and stews are an easy way to stretch your dollar and prepare a warm hearty meal for your family that will last well into the week.
Nothing says fall like "Stew" and "Apples"
And the Chicken Farmers of Canada has an amazing Autumn Chicken and Apple Stew recipe on their site.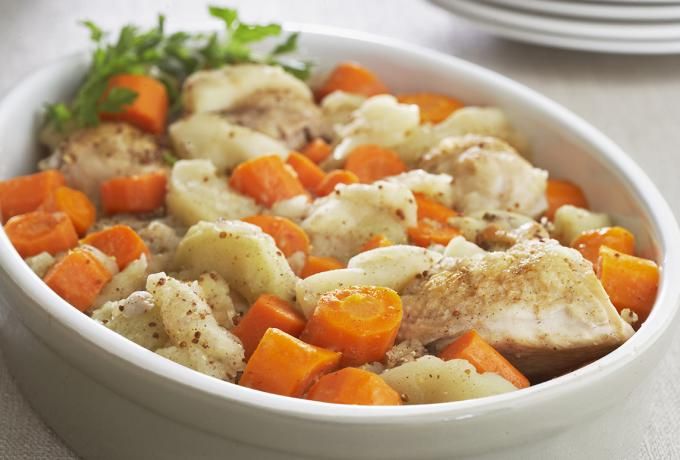 Ingredients:
1 whole chicken, cut in parts
1/4 cup (50 mL) apple cider vinegar
1/2 tsp (2 mL) nutmeg, ground
6 whole cloves
1/2 tsp (2 mL) salt
3 carrot(s), peeled and sliced
1/4 tsp (1 mL) pepper
6 apple(s), peeled and sliced
2 tsp (10 mL) Dijon mustard
1 cup (250 mL) cabbage, shredded
1 3/4 cup (440 mL) low-sodium chicken broth, warm
1 cup (250 mL) applesauce
Directions:
Spray large casserole dish with vegetable cooking spray and heat over medium high temperature.
Add chicken and cook, turning to brown on all sides, about 10 minutes.
Sprinkle with nutmeg, salt and pepper.
Spread mustard over chicken pieces; add warm broth, vinegar, cloves and carrots; bring to a boil.
Cover, reduce heat to low and cook 15 minutes. Add apples and cook 5 minutes. Add cabbage, stirring into liquid.
Cook, covered, about 10 minutes more or until fork can be inserted in chicken with ease.
With slotted spoon, remove chicken and vegetables to warm serving bowl and keep warm.
Stir applesauce into liquid; boil on high temperature 5 minutes and pour over chicken and vegetables.
Serve with brown rice, if desired.
Enjoy!!
Do you have a favourite chicken stew, soup or slow cooker recipe??
Read more to find out about the Twitter Chat and Giveaway!

You can share your favourite soups during the Chicken Soup #ChickenChat!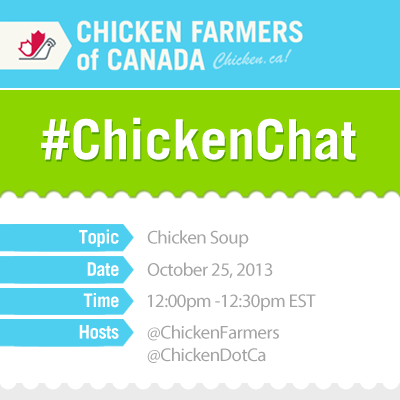 Be sure to follow
Friday, October 25th at 12pm!
Chicken Soup Bowl Giveaway!
You could win a Chicken Farmers of Canada Thermos and set of 4 soup bowls!  Perfect for taking your favourite soup with you and serving it up!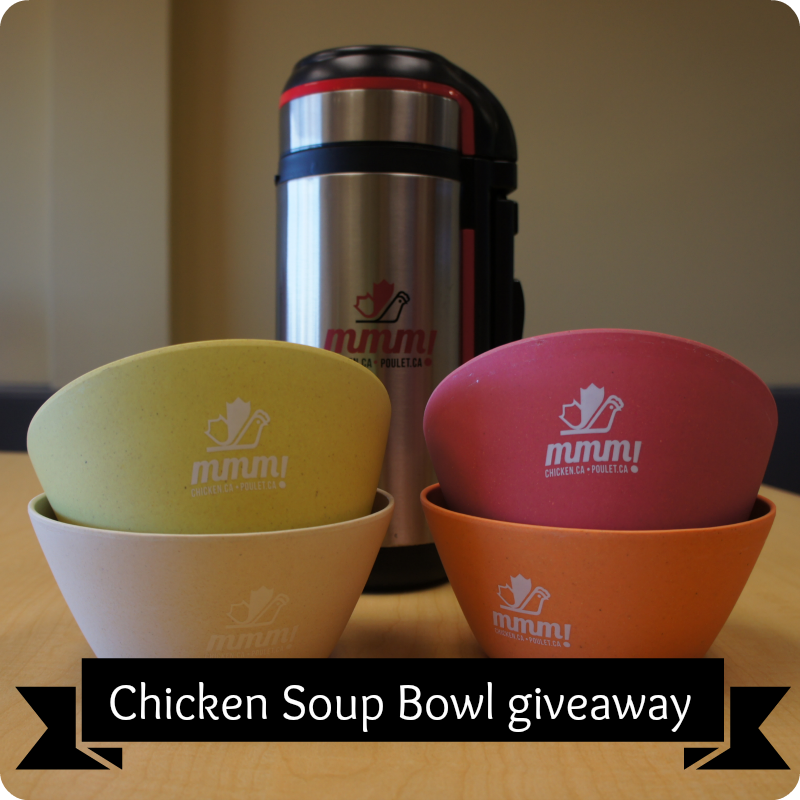 Open to Canadians (excluding Quebec).
End October 31st 11:59pm EST.
Prize will be shipped from the Chicken Farmers of Canada in 6-8 weeks.
Winners will be contacted by email!  Your email must be included in the form.