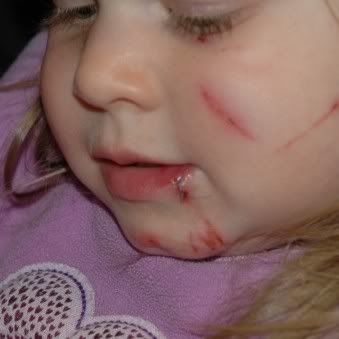 Do you remember that?  I posted that on May 24, 2009.  Lauren was just over 2 years old.
This was yesterday: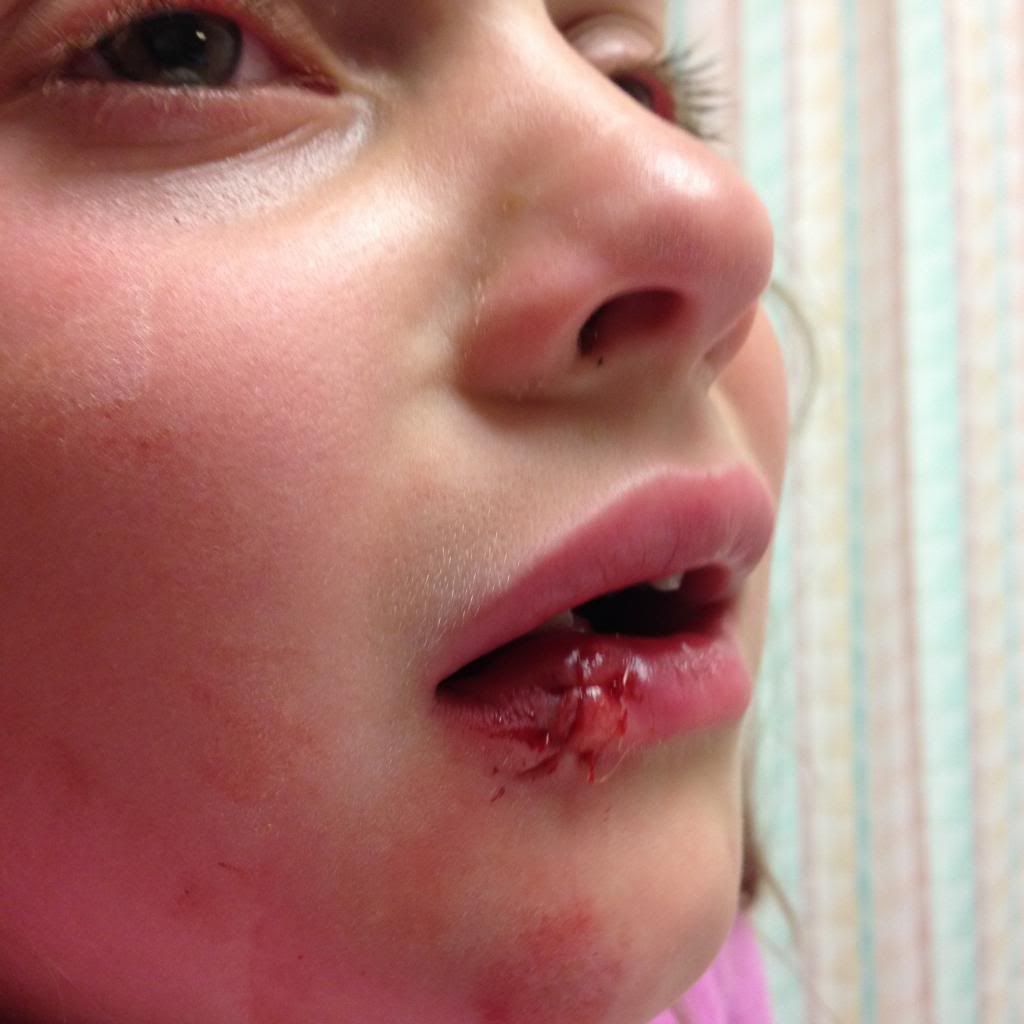 2 more stitches.
I told her that 4 in 4 years is plenty and I really don't want to have to do this again!
And I think after the whole ordeal, she'll remember what happened yesterday a lot more than what happened when she was 2.
---
9:00am
Craig got the call from the school office.  Lauren got hurt on the playground from a swing and was cut pretty badly.  They were concerned about the amount of bleeding and thought she might need to go to the hospital.
Craig was at Ontario Place in Toronto covering the Ken Block media event that was sponsored by Ford Canada so he wasn't going to be able to leave. Craig called me to let me know what happened and that I needed to go immediately.  I was part of a training exercise, but was able to quickly make arrangements for someone else to help out and I was on my way back to Oakville.
10:00am
I arrived at school to find Lauren with ice on her face and blood all over her clothes.  The principal and vice principal told me what happened:  She was pushing her stuffed bear on the swing and when the swing came back she wasn't paying attention and it hit her in the face.
Off to the hospital we went.  We got there about 10:20am.  She was triaged by the triage nurse and doctor and then we were sent to the registration desk.  Once she was checked in, we were told to go to the RAZ section.
10:30am
I just looked up what RAZ means: Rapid Assessment Zone.  They need to rename that because that's a big lie!  We sat waiting for 2 hours before she got moved to a bed.  She did surprisingly well while we waited. We talked about what was going to happen when she saw the doctor. I wanted her to be prepared and I couldn't lie to her when she asked if it would hurt.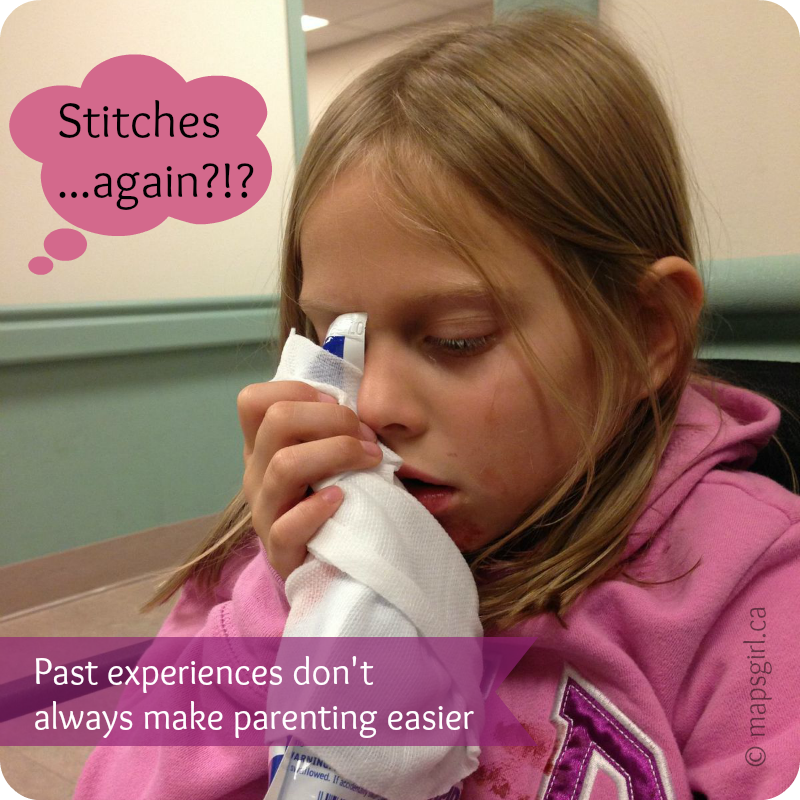 12:30pm
We were moved to a curtained-off bed so that we could wait some more.  While waiting, I realized that we were in the exact same bed as the last time she got stitches.
Finally the doctor and nurse checked her out.  He ruled out a head injury and then talked about her lip.  We had 2 options: do nothing or stitch it up.  "Nothing" would have left a big scar so we went with stitches.
I figured that giving her the needle to freeze her lip was a huge struggle, the actual stitches would be even harder.  I was right.  I held her down, the nurse held her head and the doctor stitched.  The first one was the worst.  While he was doing the 2nd one, the first one ripped out because she moved.  After that one was in, he re-evaluated the location of the next stitch and only ended up needing 2 stitches.
2:00pm
We were walking out of the hospital and saw Craig.  Because I didn't have very good cell service, I couldn't keep him as up-to-date as I wish that I could have. Lauren decided to drive home with him and I picked up popsicles.
She had ice cream and popsicles and watched TV until Rachel came home.  The 2 of them played quietly until it was time to to go to choir.  We wanted Lauren to stay home, but she's so determined. It was good that she wanted to just pick up and keep going.
---
Lauren is spending today at home with Craig. We wanted to give her lip a chance to start healing a bit before she starts back into her regular routine.
Emotionally and physically tired, I am back at work.  Yesterday's events are still spinning through my head.  It's very hard to stay calm when you're stressed and all you want to do is grab her, hold her and cry "My poor baby!"  Plus the physical strength required to hold down a writhing, angry, scared 6 year old is more that I imagined.
I stand firm on my recommendation about not being the parent who has to be with the child getting stitches. As much as last time should have prepared me for what was going to happen yesterday, I'll never get used to it.  I pray that there won't be a third time.
---