I am very excited to announce that I will be sharing lots of Car Seat Safety knowledge at The Canadian Mother Resource as their Car Seat Expert!
Not only will I be writing articles for the website, but we'll be having Twitter and Facebook parties too!
We have our first Twitter party coming up!!
#CMRCarSeatSafety Twitter Party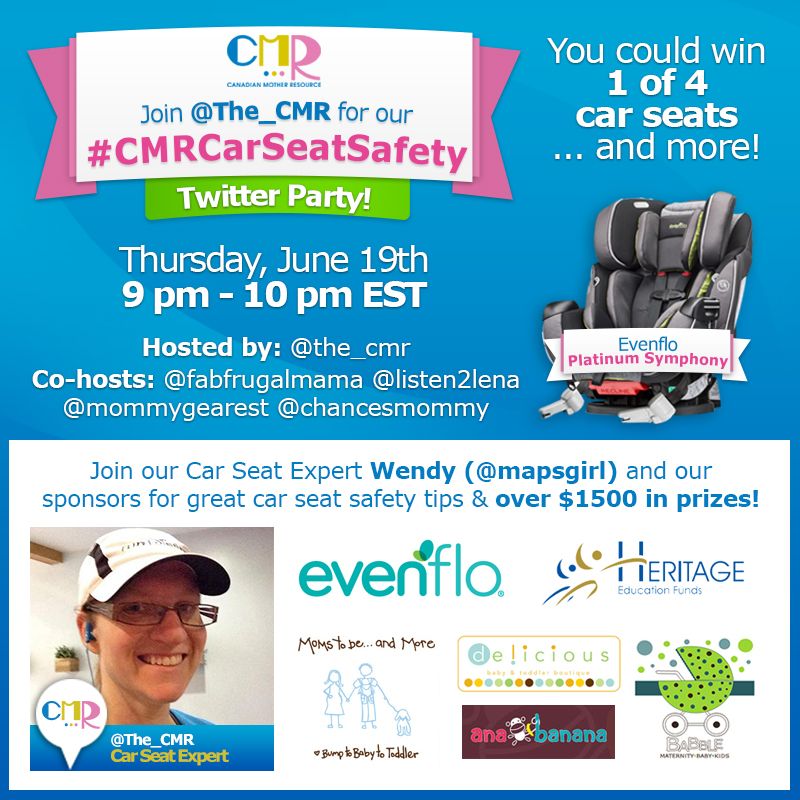 Join The CMR's Car Seat Expert (me!) and our sponsors
for great car seat safety tips and
over
$1500 in prizes
, including
4 Evenflo Platinum Symphony car seats
!
(Note: Prizes open to Canadian residents only.)
When: Thursday, June 19th
Time: 9pm to 10pm EST
Hosts: @the_cmr, @mapsgirl (that's me!)
Co-hosts: @fabfrugalmama, @listen2lena, @mommygearest, @chancesmommy
Lead sponsor twitter handle: @EvenflobabyCA
RSVP!
Please RSVP with your @twitter_handle and http://www.twitter.com/twitter_handle!
or