Munchkin has lost her first tooth!!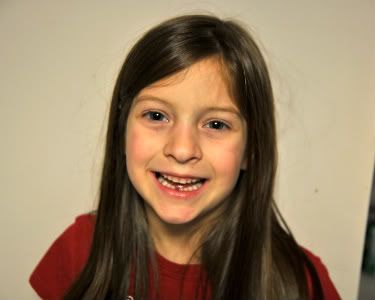 At the end of October, we had a late Thanksgiving dinner with my brother, sister-in-law (SIL) and niece. After dinner, Munchkin was complaining about something stuck in her tooth. My SIL is a dental hygienist so took her up stairs to floss it. Munchkin came bouncing back downstairs because it was discovered that her two bottom teeth are loose. One a bit more than the other.
We were a bit nervous because the next Friday was picture day at school and we wanted her to keep it in for just a bit longer. She was asked not to wiggle it until then. But really, she's 5 and it's exciting to have a loose tooth so I'm sure there was still some wiggling going on.
—
A few Saturdays ago, we picked up the girls from their Grandparent's house after their sleepover. BigDaddy and I had gone out for a Christmas party the night before. Munchkin complained that her loose tooth had been bleeding. BigDaddy commented that it was starting to look strange in colour.
I was concerned that something was wrong. It has been a while since I lost a tooth and had no idea what was going on. We trekked off to the dentist to find out that nothing was wrong. The tooth was so ready to come out that the discolouration was just from dried blood inside the tooth. Munchkin had been pretty good but started to look nervous when the dentist talked about taking it out. Seeing the worry on her face, the dentist suggested using a topical jelly to freeze the area a bit before taking it out.
We left the dentist office with some gauze in case it bled some more, a princess crown, and a tiny little tooth in a molar-shaped plastic container on a string. She was so proud; running to show Daddy when we got home and showing all her friends at the Christmas party attended that evening.
She put it under her pillow that night.
What did the tooth fairy leave?
Sunday morning, she comes in our room. Pauses.
"Oh, I have to see if the tooth fairy came" and runs back to her room.
"Look!! I got a toonie!!" (for my American friends, that is a $2 coin)
We played along with her excitement, as every parent should. "What are you going to do with with it?" we asked.
She hummed and ha'd but in the end said "I dunno."
We all got up and started getting ready for Church. After helping the girls get dressed, I was in my room getting ready when Munchkin walked in, holding the coin up, tightly pinched between her finger and thumb.
"I want to put this in the offering at church"
I paused. After picking my jaw up off the floor, I confirmed that this is what she wanted to do. I said, let's go talk to Daddy.
She repeated her request to him. Now there are two parents in shock.
Without skipping a beat, she then says that she needs an envelope to put it in. I got the box of envelopes out with the intention to use one from a week when we didn't go to church. But there in the box, were 2 envelopes dated for December 5th — one for the regular giving and one labeled "White Gift". That one had to be hers.
I let her fill it out with the amount and her name. But she also wrote… "My tooth fairy money" Too funny.
During the service she couldn't wait to put it in the collection plate and when the time came she smiled with pride.
I cried.
Not even 6 years old and the only money that she has ever been given where she can do what ever she wants with it and she gives it away.
---
Then the people rejoiced, for that they offered willingly, because with perfect heart they offered willingly to the LORD: and David the king also rejoiced with great joy.
– 1 Chronicles 29:9 –
---