After spending time at Walt Disney World last week, I know that the girls will want this amazing
FOUR-VOLUME COLLECTION,DISNEY CLASSICS BOX SET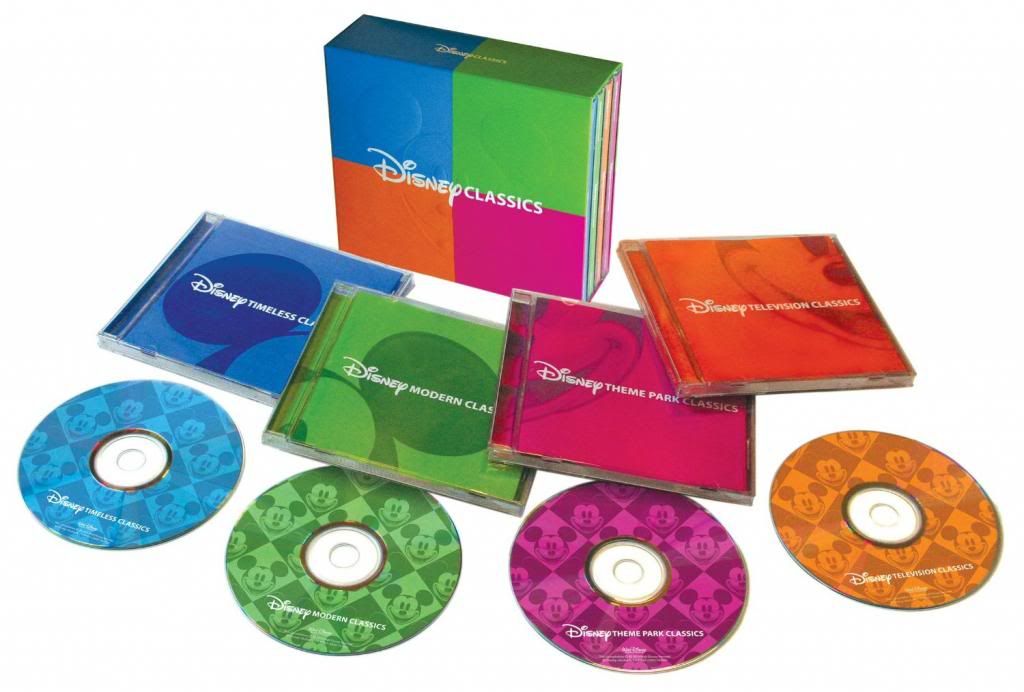 From the press release: The box set was compiled by Disney Music Group's resident music historian and Grammy®-winning producer, Randy Thornton. Thornton said, "From the Studio's earliest days, music has always been an integral part of the Disney creative process. But when "Who's Afraid of the Big Bad Wolf" debuted in 1933, it began a musical legacy that remains unmatched to this day – probably the most recognizable and beloved song catalog in the world. Even though the musical styles range from inspiring ballads, novelty songs, folk, rock, to Broadway show-tunes, Disney Music is a genre in and of itself."
Special bonus for box set purchasers:  The all-new "Disney Classics Medley" (featuring songs from "The Lion King," "Aladdin," "Pocahontas," "The Little Mermaid" and "Beauty and the Beast") performed by YouTube a capella sensations Alex G and Peter Hollens, will be available as a free download when the box set is pre-ordered at iTunes and Amazon. With over a combined 100+ million views, Alex G and Peter perform covers of songs using only the sounds of their voices. The music video debuted on Alex G's YouTube Channel, garnering over 568,000 views in less than 24 hours, http://youtu.be/GDEFuG30FYg .
The Disney Classics box set will be available wherever music is sold on November 12, 2013.
For more information on Walt Disney Records' releases, please visit Disney.com/music, become a fan at Facebook.com/disneymusic or follow us at Twitter.com/disneymusic.
The box set includes 4 discs of 94 original recordings.
Order your set today!!
---
I am participating in a blog post campaign from One2One Network and Walt Disney Records. All opinions are my own.